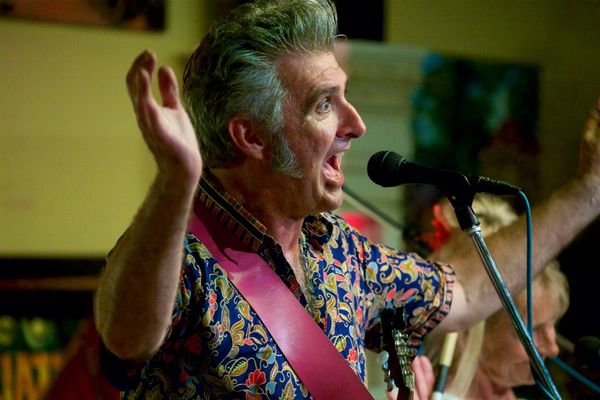 Dear friends, 
Deta has already posted a comprehensive account of our adventures in 2020, but it´s in German and some of you may, despite the joys of Google Translate, feel justifiably left out , so here´s an English version. It´s a long story but it´s a good story, and it has a happy ending or, rather, a happy new beginning. Our only misgiving in sharing it is that so many people have experienced so much pain and hardship in recent times that it seems almost insensitive on our part to be recounting it- but the story, and its happy ending, has been made possible by the boundless generosity and support of good friends who have made what seemed like an impossible dream come true. A thousand thanks to you all! You know who you are. And we know who you are-and look forward to sharing our music and our friendship with you in the coming months…´Rona allowing… 
Here´s the story-or a decent chunk of it… 
When we launched the so-called "Kraut Funding" project  back in 2016 to pay for Deta´s spouse visa we had little more than a vague notion of settling in Australia; the when and, critically, the how, were both unknown quantities. Fast forward to 2018, when the how was partially solved by manna from real estate heaven. Yes, brothers and sisters, the wonderfully liberal German tenancy laws had forced our erstwhile landlord, an investment bank in Luxembourg, to offer us some sort of financial inducement to entice us out of our beloved loft apartment in now-fashionable Berlin Kreuzberg which we had shared for the last 20 years. Poker-faced Deta turned up her card sharp nose at the sum offered and suggested double the amount-or we´re staying. An agonising two months ensued, with the liberating news in September that-hallelujah!- our (Deta´s!) brash double-or-nothing gambit had paid off. 1st installment of said inducement to follow immediately, the 2nd on our surrendering the keys to our apartment to the Luxembourgians. Goodbye to Berlin… 
First stop on the long route to Australia was a move to the (German) countryside in May of 2019; the idyllic village of Märkisch Buchholz, 60km southwest of Berlin, provided a new nest in the midst of field, fen and forest. Our long term game plan was always to spend six months in Germany, six months Australia, and the continuation in both countries of our annual 120-odd Beez shows schedule. Märkisch Buchholz, we thought, would be our new German base- an Australian counterpart to be found, hopefully, during the course of 2020. 
German autumn 2019 found us in familiar fevered preparation for The Beez 2020 Australian tour, but the bad news from Downunder brought a new and unfamiliar sense of foreboding. Much of the east coast was burning; many of the regions where we´d booked shows had been badly hit. With the tour already booked from January to May, it was too late to back out. Deta and I flew to Sydney in early January and spent three weeks rehearsing material from our new album in preparation for Peter´s arrival in early February. The smell of bushfires was a constant and frightening reminder of our precarious position. 
Parallel to the rehearsals were constant brainstorming sessions between Deta and myself about what exactly we had in mind re: our Oz Accommodation. The idea of a tiny house had been in both our minds for quite some time-we could certainly afford the house-but the land? We needed someone to host us. A pair of itinerant musos camped in the backyard, til death us do part? This would be a big ask for anyone. We cast our net far and wide with little luck. One glimmer of hope had already presented itself-our friend Therese, who had befriended us a couple of years previously, had already offered to host our tiny house on her block of land in the Blue Mountains. Soon after, though, a nightmare scenario unfolded of false arrest and 7 months imprisonment, not only of Therese, but also her family-brother, daughters and sons and a judicial odyssey which resulted in the joyous news in February 2020 of all charges having been dropped. Despite the enormity of this injustice and the untold damage that it has wrought on her and her family, Therese repeated her offer of hosting our tiny house-and, for the first time, we had the feeling that our crazily utopian dream could, perhaps, become reality. 
Meanwhile, though, our Australian tour was underway, soon to be known in Beez lore as the "Fire, Flood and Flu" tour. Heartbreaking, inspirational-this would be the end of many things and also the beginning of  many others. And I think I can probably be forgiven for the pathos here… 
Peter, Deta and I had a great start to the tour in February in Victoria, but this was constantly overshadowed by the untold suffering and damage wrought by the bushfires. Many of our bookings were on the NSW south coast, and one in particular- Quaama, near Cobargo-was a source of worry. Not for the cancellation, but on account of our many friends in the area. Both villages suffered heavy losses-and loss of life. In the aftermath of the fire we phoned Veronica Abbott, who would have been hosting a Beez show in Quaama, and offered, for what it was worth, to at least come down and play a freebie for the locals. As it turned out, Veronica was coordinating the Quaama bushfire relief effort at the local hall and had organised a shindig for the following week. We ended up playing a joyous community celebration-hell, did those folks want to party!- at the local hall where, amongst other things, we were able to shake the hand of Rob the Firie who had famously refused to shake that of  Scott Morrison. We heard many stories of unbelievable loss, of bravery, of indomitable community spirit. This would be a binding motif in the coming weeks as we wended our way north to Queensland through fire ravaged countryside. Witnessing the sheer magnitude of the damage wrought by the Currowan fire on the drive from Braidwood to Batemans Bay was a particularly sobering experience. 
As everyone knows, rain eventually fell but it was too little, too late. Flooding in some regions only served to exacerbate existing problems. To make matters worse, rumours were beginning to circulate about the spread of a new, virulent and potentially life threatening flu virus. A brief tour break in Sydney brought news of the coming pandemic and the cancellation of our return flights to Berlin, booked for early May. The ensuing internet search yielded suspiciously cheap substitutes which we had no choice but to book. A big mistake, as we later discovered. 
What began as a trickle rapidly developed into a flood; it became apparent in early March that the pandemic would threaten not only the remainder of our tour but also the health and wellbeing of millions all over the world. On Friday, March the 13th, with The Beez in Coramba, Northern NSW, the lockdown was announced. We spent the next day in nervous consultation with our friends Cecily and James in Old Bar near Taree before receiving an offer that was impossible to refuse-our friend Tracey, an Australian expat musician in New York, suggested in no uncertain terms that Deta, Peter and I should move our collective backsides ASAP to her house in Katoomba. Normally booked out via airbnb, the house was now vacant-until further notice-due to Covid-19 cancellations. The drive to Katoomba was excruciating. The sore throat which had mysteriously materialised overnight must surely be the corona virus. Should I tell Peter and Deta? Should we all get tested? My previous history of psychosomatic paranoia prompted me to keep this one to myself and, sure enough, the Uncle Dan´s elixir we drank in copious quantities that night alleviated all traces of bronchial distress. If this be lockdown, bring it on. 
Of course, none of this would be simple. The following morning´s hangover and the lockdown had brought with it not only the cancellation of our entire tour but also, for Deta and me, of our suspiciously cheap return flights to Germany. Peter looked to be safe as he´d booked, miraculously, with Qatar Airlines-the only airline still flying out of Australia- but this presented its own problem as his return flight to Germany departed not from Sydney, but from Perth, where our tour was due to end after an appearance at the Fairbridge Folk Festival. Deta and I had our own problems. Flights to Germany couldn´t be had for love nor money and our health insurance covering the Australian tour would expire at the beginning of May. Our income was already zero and our manna from real estate heaven was rapidly dimishing and, with it, our dream of a tiny house in the mountains. Enter the Spekulationsverbot, or Speculation Ban. 
The success or otherwise of any given enterprise is dependant in no small part upon the ability to anticipate various factors which might influence the execution of that enterprise. An educated guess is based on a wealth of knowledge and previous experience. In this pandemic we now had bugger all of either, so trying to predict what might happen was a pointless exercise, hence the Spekulationsverbot. We´d have to wait. To do what we could, certainly, to gather intelligence, to inform ourselves, but otherwise to kick back and enjoy the fabulous Blue Mountains, a magical place that I´d known since childhood, but also, of necessity, Centrelink, a foreboding place that I´d known in my early adulthood. In the meantime, though, we decided to launch our new CD-recorded just before our tour-online. We certainly wouldn´t be selling any at Beez shows. The response was overwhelming and, once again, we were humbled by people´s generosity. Looks like our ALDI bills would be paid, for the next weeks at least… 
The news from Germany was not  encouraging for people like us, i.e. self employed musicians. The otherwise supportive German government, while not entirely pulling the plug on unemployment benefits, had made it all but impossible to apply. Imagine my shock and confusion on my first appointment with the good folks at Centrelink when they made every appearance of wanting to help. As I told my story I had a sense that, yes, I was in a hell of a fix here. My case worker agreed and, within three weeks, had approved JobSeeker allowance for both Deta and myself and had also signed us up to Medicare. Gratitude is too weak a word to express what we felt. With our German dates for 2020 also cancelled it dawned on us that this was it. It had been decided for us. We were here in Australia for the long haul. 
Peter, meanwhile, grappled with new challenges. WA had closed its borders. Nobody-not the airline, the WA police, the WA Border Force nor the folks at Perth airport –could tell Pete what would happen to him if he flew into Perth to join his return flight to Germany. His Australian visa would, of course, expire on the day of his flight-May the 4th. It was now early April. If Pete was perturbed he certainly wasn´t letting on. With zen-like calm he would daily trek the glorious Blue Mountains terrain, only to return shortly before sunset to our mountain retreat and the obligatory sundowner. He confessed that he, too, had adopted the Spekulationsverbot and, miraculously, this bore fruit. Peter held off making any enquiries until the day before his flight when he rang Qatar Airlines, only to discover that it had been cancelled and he´d not been informed. That´s a problem, he said, I´m in Sydney, not Perth. No problem, was the reply. We´ll book you at no extra cost on a flight from Sydney. But not until the day after tomorrow. A call to Australian Immigration to inform them that he´d be overstaying his visa brought a similarly equanimous response. No problem, Mr. D'Elia, we´ll grant you a bridging visa on the spot. 
Early May had seen the relaxation of some lockdown measures, including that of non-essential travel, so we decided to drive Pete down to Sydney airport in all its spectral lockdown glory. An deserted international airport terminal is an unsettling thing. Had Christopher Nolan organised this? We parked in the dropoff zone-customarily marshalled by zealots frantically moving people on after 30 seconds-for half an hour while Peter did the old trick of leaving his guitar with us so that it wouldn´t be seen while checking in.* So, this is it, we all said. We all knew that 2020 was a write-off for The Beez. We wouldn´t be seeing Pete for some time; just how long we couldn´t have guessed at that point. 
The ridiculous good fortune that Deta and I had experienced up until then allowed us some breathing space to tie up some loose ends in Germany. We were still paying rent on our flat in Märkisch Buchholz and wouldn´t be back for the foreseeable future. Fortunately our neighbours and friends Liane and Ulli had decided to move in and, in a further providential intervention, we had an offer from neighbours Uwe and Irina, who knew of our plight, to move all our stuff into the vacant granny flat in their large apartment-pay rent when you´re here, pay a pittance when you´re not. This last hurdle cleared the way to devoting more time to the tiny house project. 
Being clueless has distinct advantages when you´re buying, say, a household appliance, but not when you´re sinking your life savings into a house. To say that this was uncharted territory would be an understatement. In the countless hours I spent scouring the net for tiny house manufacturers I´d uncovered a dog´s breakfast of good, bad and downright ugly. My only yardstick was a vague sense of aesthetics and a gut feeling. The manufacturer who really caught my eye had a reassuring teutonic name-Häuslein!-but, according to their website, weren´t taking orders until 2021, and, even then, with a build time of three months. This meant a total wait of almost a year and, although Tracey had been more than generous in offering us her house for a fraction of what we should have been paying, we were mighty tired of living out of a suitcase. A quick call to Häuslein brought the joyous tidings that they´d recently expanded their capacity and were taking on new orders. Did we need finance? No, we didn´t. Right, we can put you at the head of the queue, estimated delivery mid-November 2020. A link to the Häuslein website was promptly forwarded to the most important link in our chain-Andrew Szery, licensed builder. Andrew had, in a fit of benevolence, offered to build a deck  for our tiny house and was, effectively, our building consultant. He gave the Häuslein mob the thumbs up and, in July, we put a downpayment on the mighty "Grand Sojourner" model-32 square metres of tiny house heaven. 
We were now faced with a somewhat tricky juggling act. Our budget dictated that we could only afford a so-called "shell stage" build: as the name implies, an empty shell, no fittings, appliances, plumbing, electricity. However, what we did have were good mates-who happened to be tradies - who were willing to dedicate enormous time and effort into helping us with our project. And that at even less than mate´s rates. We received the news in September that Häuslein had moved the delivery forward to mid-October-would we be OK with this? Yep, we would. Andrew reorganised his schedule and managed to free up ten days in early November to build the deck and the inner stairs for Deta´s loft. Delivery followed promptly on the 23rd of October courtesy of Sam, one of Häuslein´s head honchos, who had towed the tiny house from their factory in Port Macquarie and who also spent a day levelling and "tying down" our house, which is and remains on a trailer. It´s classified as a caravan in order to circumvent the need for a Development Application. 
Deta immediately applied her handiwork skills to the job of painting and would, in the 8-week course of our build, go on to tile the kitchen splashback, lay the laminate flooring, re-cover 4 elegant chairs in fabulous Piet Mondrian-style and to assemble and install the infamous IKEA cabinetry, amongst a host of other tasks large and small. I was assigned the task of offsider to Andrew as well as general dogsbody and gopher, a job I acquired by virtue of my newly minted driver´s licence. Yep, those who know me will be shocked and awed by this achievement at the tender age of 59. Andrew started work on the 10th of November and proved to be a Man of Action- he had not only the deck, deck roof and inner stairs up ahead of schedule, but also brought them in well under budget-a budget which was fairly modest to start with. A truly awe-inspiring feat. I lost several kilos in the process and, thanks to Andrew, broadened my skill set in ways that surprised me. I discovered that I´m extraordinarily adept at hammering in decking nails right handed, quite an achievement for a left hander. I graduated from Inept to Largely Inept. 
Halfway through Andrew´s tenure came our plumber mate, Greg, with his colleague Marty.  Greg and Marty had a similarly tight schedule and managed to dig trenches and connect water, install a greywater drainage system and electricity, as well as plumbing, fitting out and tiling the entire bathroom. All this in 4 days. Andrew,  Greg and Marty all headed off on the 20th to other pressing jobs, leaving us to then welcome our friend Roger, handyman extraordinaire, to the fold. I was demoted to gopher as Deta assumed the offsider role for Roger, who proceeded to plan and assemble our kitchen as well as instruct Deta in the mysterious art of tiling and laying laminate flooring. The onerous task of laying screed (no, I have no idea either) and tiling the bathroom floor also fell, alas, to Roger. He completed it with alacrity and good grace and celebrated its completion with several bottles of Fat Yak Ale. Since Roger´s final visit  in mid-December we´ve scoured every op shop from Katoomba to Tempe in search of everything from sofas to sieves. Ikea´s bargain bin provided, surprisingly enough, a fine source of cheap furniture, even if the trek to Marsden Park proved to be somewhat arduous. We have also, once again, been the recipients of much generosity in the shape of kitchen wares and countless indispensible objects which would otherwise have served to blow out our budget. And no, naysayers, the budget did not blow out ,contrary to Grand Designs-style pessimism-all due to you, dear friends, who have made all this possible. 
We moved into our new home on Friday, the 18th of December, a warm summer´s evening. A brace of black cockatoos with their High and Lonesome cries staged a fly by and Bella, the horse, stood at a respectful distance with a mouthful of grass from our acre-wide front yard. Something sizzled on the barbie-yes! The Barbie-on The Deck!-and the bubbles were, just this once, shamelessly French. Just after sunset a whiteout Blue Mountains fog rolled from the eucalypts bordering the paddock and crept up the hill towards us, engulfing our house like some Lord of the Rings special effect. 
Looks like home to me. 
*This is a time-honoured Beez ploy to smuggle instruments on board domestic and international flights as hand luggage. Almost foolproof. You will need an accomplice who is willing to wait for the duration of the check-in process. 
Your accomplice guards your instrument at a safe distance from the check-in counters while you check in.  If you check in and are carrying an instrument, you will inevitably be asked to pay excess baggage and your instrument will be consigned to the aircraft hold where it will be subject to the Russian roulette of baggage handlers. It will more than likely arrive at its destination in considerably more pieces than at its departure. 
Borrow a computer bag or some innocuous piece of hand luggage from your accomplice and proceed to the check in counter. It has become customary for hand luggage to be weighed and issued with a "Carry on Baggage" tag with its weight thereon. Check in staff might also ask "do you have any more hand luggage?" even if they can see that you don´t. They will be relying on your unflinching honesty and hope to scare you into confessing that you intend to smuggle a celtic harp on board. You reply "no".  The optional "Are you fucking blind?" is not recommended as it may draw attention to you. 
Once you´ve checked in, go back to your accomplice and return their crummy computer bag, being sure to remove the baggage tag from it and affix it to your instrument. Even though it may seem odd that your double bass*  now weighs only 2kg, this is unlikely to raise suspicion as airline employees will be interested only in the fact that you have a tag and not what is written on it. 
Proceed through customs. This is not problematic. Customs are not interested in your double bass but might ask you to play a few notes. Tell them you´ve only just started learning and then stun them with a Charles Mingus solo. 
Do NOT proceed to the gate assigned to your flight. Budget airlines, especially, routinely check and weigh passengers´  hand baggage while they´re waiting at the departure gate and will take it from you and load it into the hold. Why? Because they can. 
Wait until everyone has boarded before you sprint to the departure gate babbling "Mingus Mingus Mingus Mingus!". At this late stage the aircraft is ready for takeoff and no one will be inclined to take your double bass and lug it down to the hold. 
You´ve now boarded. Your chances of finding an overhead locker are less than zero. There are storage cupboards as well as ample room behind the last row of seats in each compartment which the flight attendants will direct you to use. They have bugger all alternative. 
Make your way to one of the many vacant emergency exit seats and wait for the flight attendants to turf you out. Tell them you have a condition called Zygodactyl Feet and ask them for a gin and tonic. 
Reflect for the next many hours on the sheer genius of The Beez´ infallible hand baggage ploy after having been moved to the most cramped seat on the plane next to newly-minted parents with quintuplets. 
*not recommended